Helpful Links for DAMC ... and Beyond
Fear Free Pre-Visit Questionnaire
As Fear Free Certified Professionals, we want to make your pet's veterinary experience as enjoyable and as stress-free as possible. As such, it's important for us to understand what your pet might find upsetting. The information will help us to adjust our care to better serve and comfort your pet. Please answer the following questions to the best of your ability so we can take into consideration both your and your pet's preferences. Pre-Visit Questionnaire
Get Your Hills Prescription Food Delivered Right to Your Door!
Sign up for our Hills to Home Program and you'll get your pet's prescription diet delivered directly to your house! Simply visit this website to sign up or call us at (215) 345-7782. You'll receive 30% off your first order and all recurring orders will be shipped for free! Best of all, the food is delivered directly from Hills to the comfort of your home.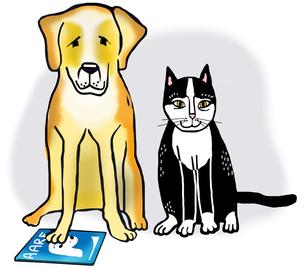 These listings are for the sole purpose of assisting our clients in finding ancillary pet services in the surrounding area, and are not intended as endorsements for specific businesses. Neither Doylestown Animal Medical Clinic nor its employees take any responsibility for services provided by these businesses.
List of Local Emergency/Specialty Clinics
If you are having a medical emergency after hours, please call any of the nearby emergency clinics for assistance:
Innovative Canine Reproduction
ICR is located at The Doylestown Animal Medical Clinic and provides a full range of CLONE reproductive services to members of the dog breeding community.
Choosing a Healthy Diet & Weight Management
Use these helpful handouts to assist you and your DAMC veterinarian in determining how best to feed your pet.
If you would like a little more information about what your pet's diagnosed illness, visit VeterinaryPartner.com for accurate veterinary authored articles.
ASPCA Poison Control - 1.800.426.4435
If your pet has ingested any foreign substance (i.e. your personal medication), please call the ASPCA Poison Control Hotline ASAP. There is a fee for this service but clients with pets Home Again microchips and are paid up to date, can use this service for free! The information you get from ASPCA Poison Control will greatly assist the veterinarian treating your pet.
In the event your pet ever becomes lost, Home Again microchips can help reunite them with you quickly and easily. When this small device is implanted in your pet, local rescues and most veterinary clinics can scan the pet if the petfinder presents your animal.
Apply, pay, and print your dog license right online!
People Foods to Avoid Feeding Your Pet
We all like to treat our pets from time to time with food from our own table. Unfortunately, some foods we find tasty can become quite toxic to our animals. Find out the facts before your feed your pet the wrong kind of treat
Pet Food Recall Information:
In recent years, the number of pet food recalls seems to have skyrocketed. To stay on top of this important information, and to see if the food you feed your pet is affected, please visit the FDA website linked below.
Animal Lifeline Helps Save Animals' Lives
An amazing local animal charity devoted to providing assistance to communities seeking to improve and save animals' lives. (And they have an incredible thrift store, too!)
Help in Finding the Right Breed of Dog
If you're looking to purchase a pure breed dog, the AKC can provide you with the guidance and resources you need to make the most informed decision when looking for a new pet for your family.
Skunk Odor Removal Recipe
Remove the pungent odor of skunk spray from your pet with this quick and easy homemade recipe.
1 QUART PEROXIDE
1/4 C. BAKING SODA
1 TSP. LIQUID DISH SOAP
PUT IN A SPRAY BOTTLE. SPRAY ON COAT AND LEAVE FOR 15 MINUTES. RINSE OFF.